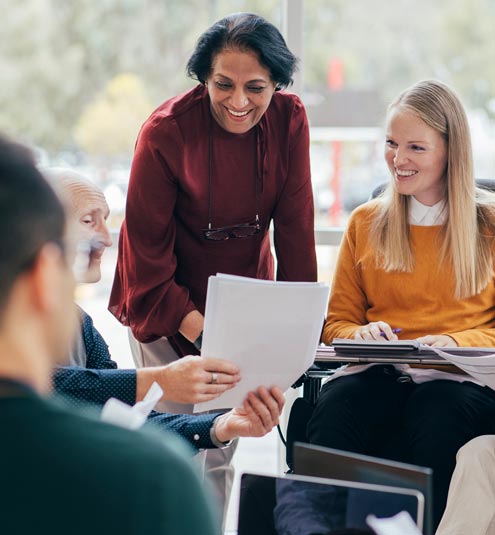 Why Work at JBS
As a JBS employee, you'll feel good about the work you do here. That's because you'll be contributing to the mission of creating positive, sustainable change in health care, social services, education, and society.
You'll also feel well supported. We offer competitive compensation and benefits packages, recognition of your contributions, and policies to encourage a healthy work-life balance.
Just as importantly, you'll be secure in the knowledge that working here means more than taking on a particular job—it's a means of moving forward in your career. We'll provide you with educational opportunities, offer mentorship and training, and give you plenty of opportunity to apply and refine your skills. Our large array of contracts with major public-sector agencies and organizations provides opportunities for advancement, new learning, and variety. Through our commitment to diversity, equity, and inclusion (DEI), everyone at JBS has equitable opportunities to grow and to move forward.
Our values are at the core of everything we do, with you and for you.
Determination
We are unwavering in our commitments.
Innovation
We think beyond what is accepted as possible.
Integrity
We lead with integrity and humility.
Passion
We are passionate about improving lives.
Agility
We execute with agility.
Teamwork
We unite to deliver results.
JBS promotes work-life balance, fosters diversity, equity and inclusion and encourages recognition of employee's contributions.
Image

Investing in Our Employees
In addition to providing meaningful work, JBS offers a competitive range of benefits.
Compensation and Retirement Contributions
Competitive compensation
Annual bonus program
401(k) options including JBS contributions
Career Growth and Recognition
Tuition assistance
Professional membership reimbursement
Employee recognition program
Employee service awards
Health, Wellness, and Time Off
Medical, dental, prescription, and vision care
Paid time off
Paid holidays
Flexible work schedules and remote working opportunities
Employee assistance program
Life insurance
Flexible spending accounts (health and dependent care)
Short-term disability
Long-term disability
Equal Opportunity
JBS is an equal opportunity employer that is committed to DEI in the workplace. JBS makes hiring decisions based solely on qualifications, merit, and business needs at the time. We prohibit discrimination and harassment and provide equal employment opportunities to all people, including employees and applicants, without regard to age, race, ethnicity, color, national origin, citizenship status, religion, sex (including pregnancy or related conditions, sexual orientation or gender identity or expression), marital status, physical or mental disability, family responsibilities, creed, personal appearance, political affiliation, matriculation, genetic information (including family medical history), veteran status, disabled veteran or a veteran of the Vietnam Era or any other classification protected by applicable local, state, or federal laws. For more information, read our EEO Policy.